Roland's Testimonial for MeetJapanLady.com and for Marrying a Japanese Woman
I did marry Naoko, the Director, and our friend, who was a member of MJL, introduced us, so in an indirect way, our marriage was a result of Meet Japan Lady's marriage magic. In any case, Naoko has asked me to add my comments about my experience of marrying a Japanese woman.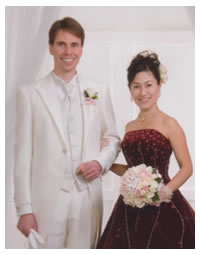 If you have an appreciation for and understanding of other cultures, I would definitely recommend seeking a mate overseas, and in particular, I recommend the services of MeetJapanLady.com since I know the inner workings of this organization. I can tell you for a fact that the people behind MJL are dedicated to assisting their members realize their dreams of marriage. I know there are many international marriage and dating websites on the internet, and I know that many of them really offer no service at all, are computer automated so you will not get a real person, or their members are not really serious and you won't get a reply. These types of websites are a complete waste of time and money. The beauty of MJL is that its owners truly want their members to find true love and happy marriages. When you write to MJL you will get a personal response from MJL quickly that deals with your unique situation. MJL can assist you in many ways from the most general questions to matchmaking services to dealing with touchy dating issues that may come up. There is no issue they can't deal with to help you find your love. Trust me, I know because I see how hard my wife, Naoko, works every day assisting her members. Furthermore, the fact that MJL has offices in both Japan and the US means that they are aware of both countries culture and regulations, and are easy to get into contact with.
In addition, if you are a western man, I would highly recommend considering marrying a Japanese woman. As someone who has married a Japanese woman I feel very privileged to have met and married my wife. Every day I realize that she is a very special and lovely person. To marry a woman from abroad makes you uniquely aware of yourself more, of your own country, and of her country. So your outlook is broadened. Furthermore, in traveling to Japan this past winter to get married, I experienced the Japanese culture for the first time, and their culture was so amazing to me. I love the Japanese respect for strangers and how the Japanese appreciate nature. I think we Americans could learn much from this culture. Also, I think the Japanese people are some of the most beautiful people in the world. When you bring your new Japanese bride back to the US you can be most assured that she will readily adapt to our western customs and way of life since Japan is a very wealthy western country. This may not be so with women from many other poor countries. In my case, I have learned and continue to learn much from my wife, making my life a wonderful journey of joy. What are you waiting for? Your dream awaits…

Roland 12.May.2008